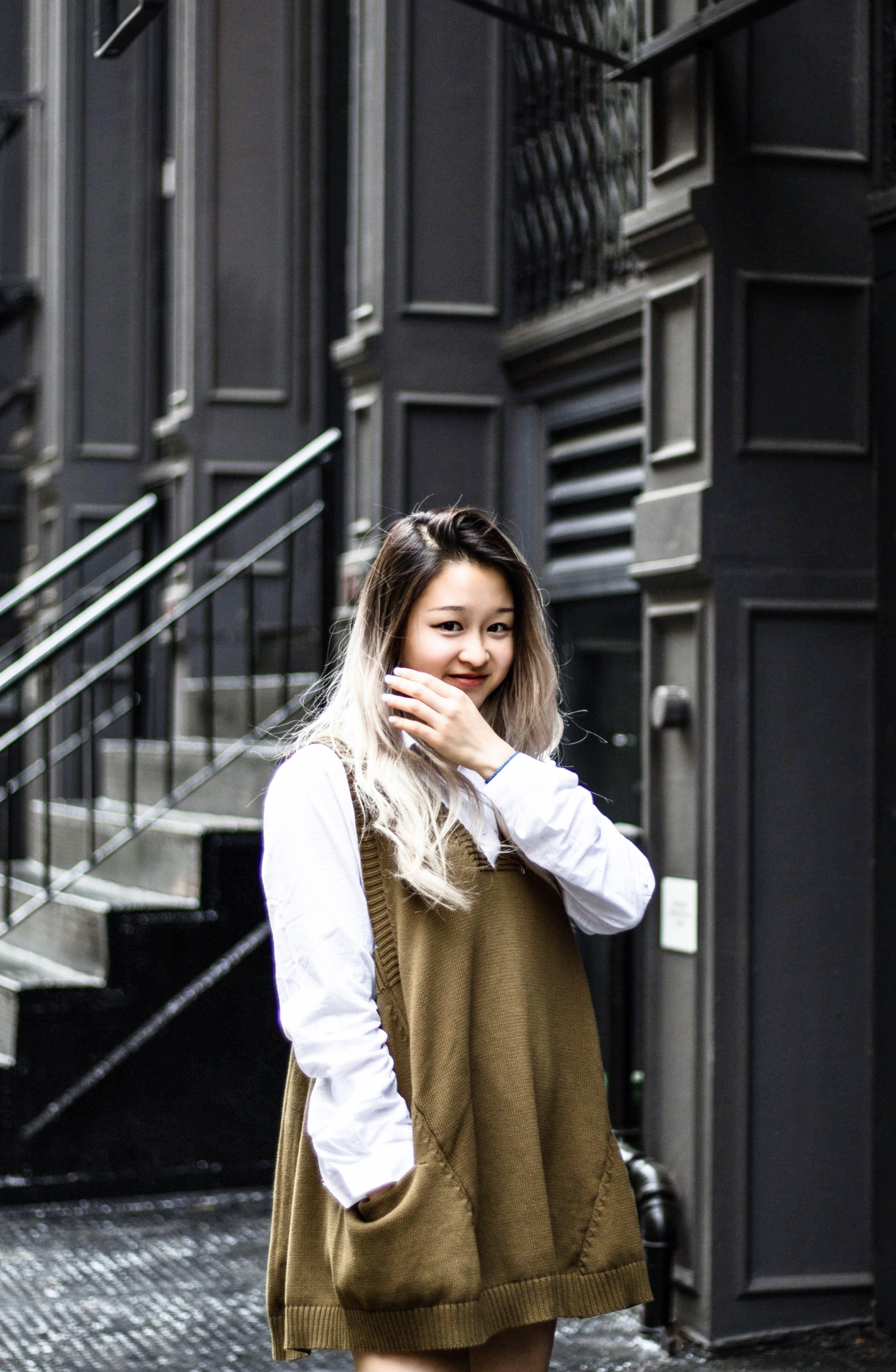 Roseanne Chao
UX designer
Rootful
Stay rooted and mindful of your surroundings
Team
Solo Researcher & Designer
Timeline
4 month (Jan 2021 - May 2021)
Goal
To make users more mindful of their surroundings by providing users information for each other.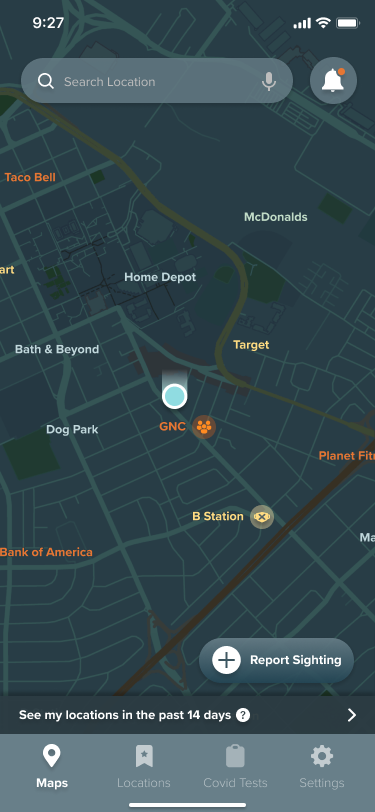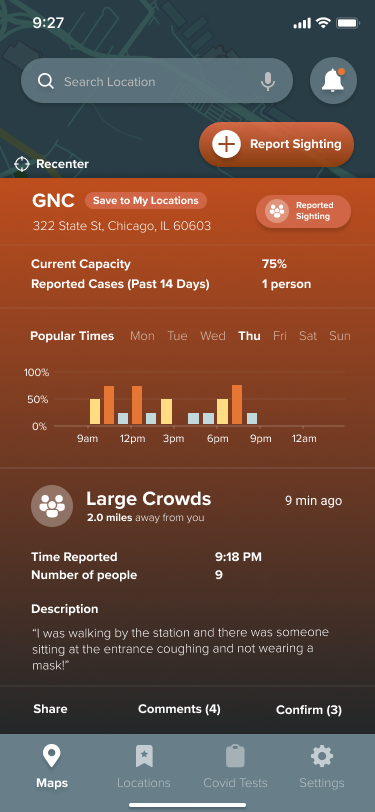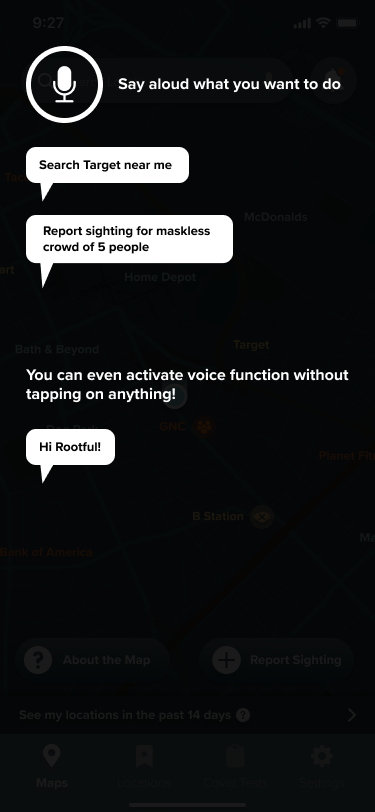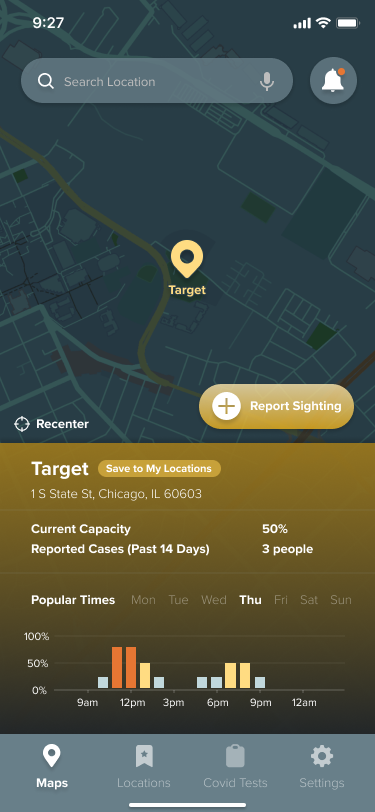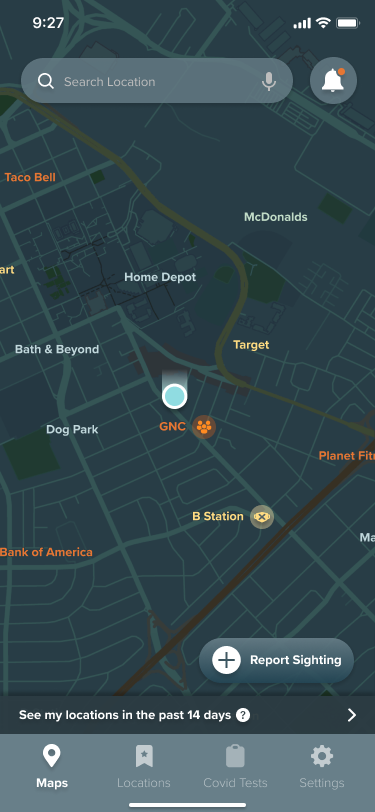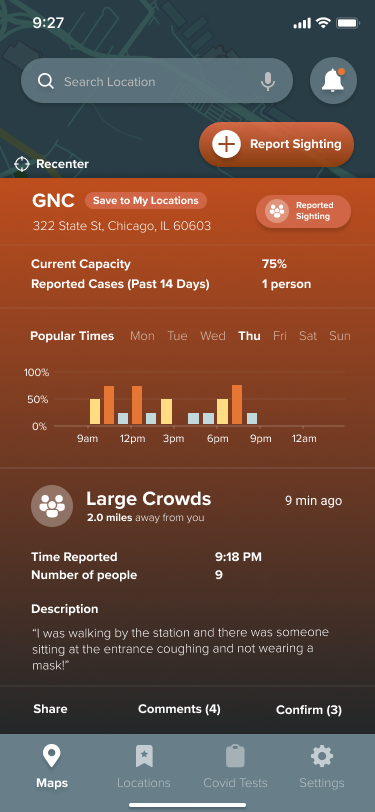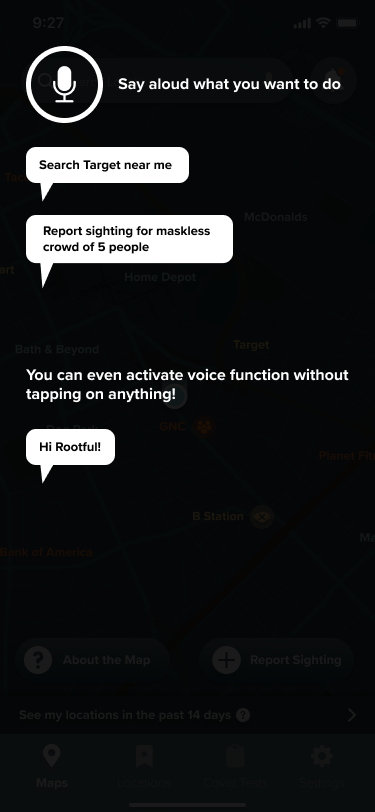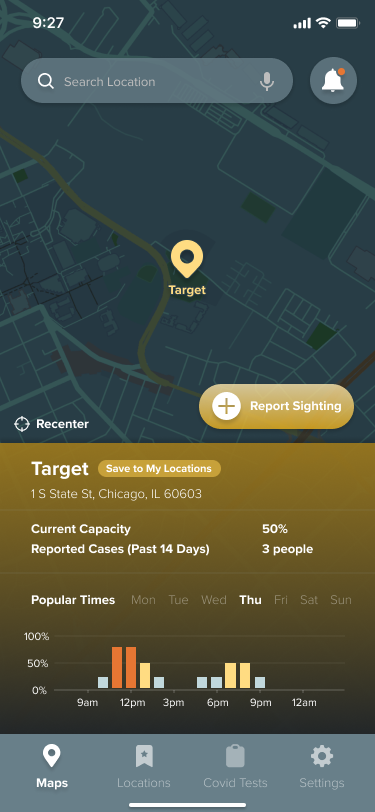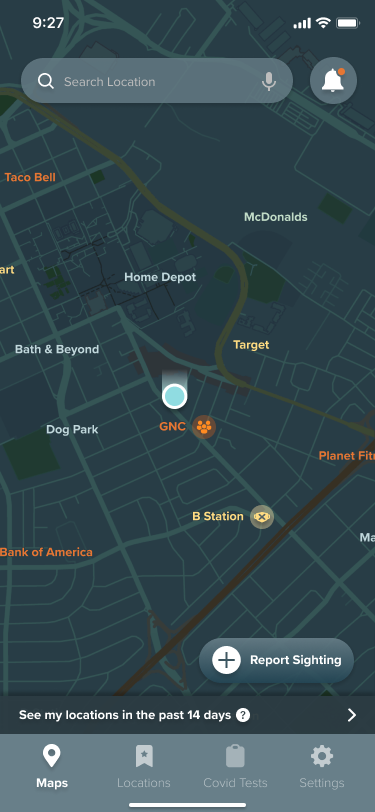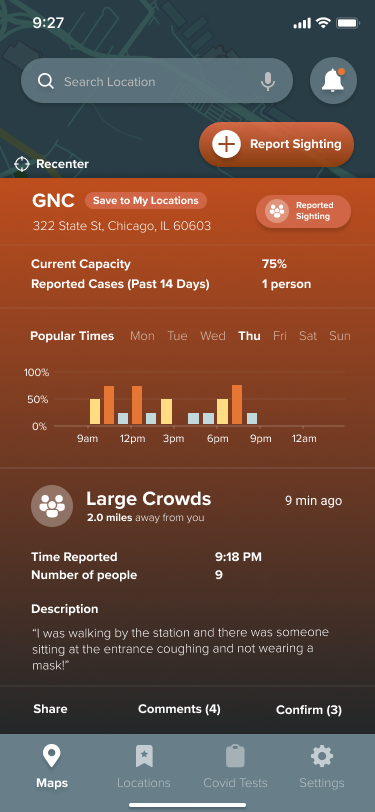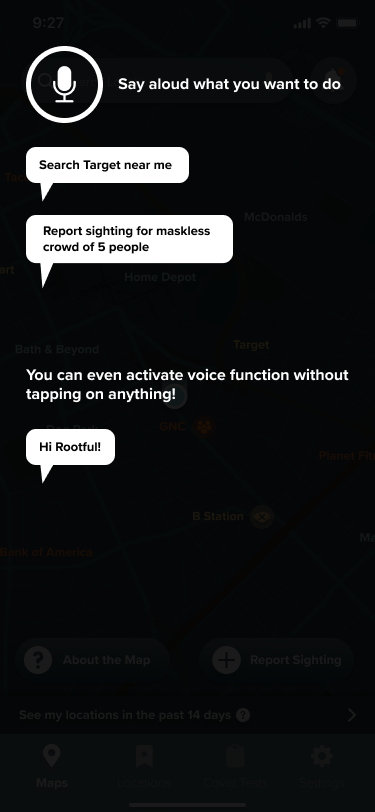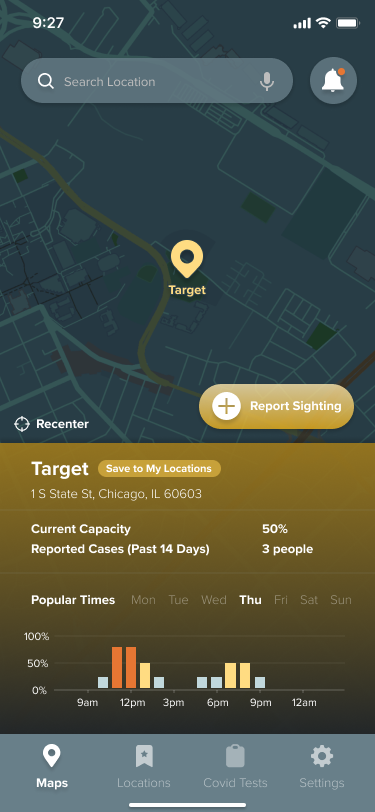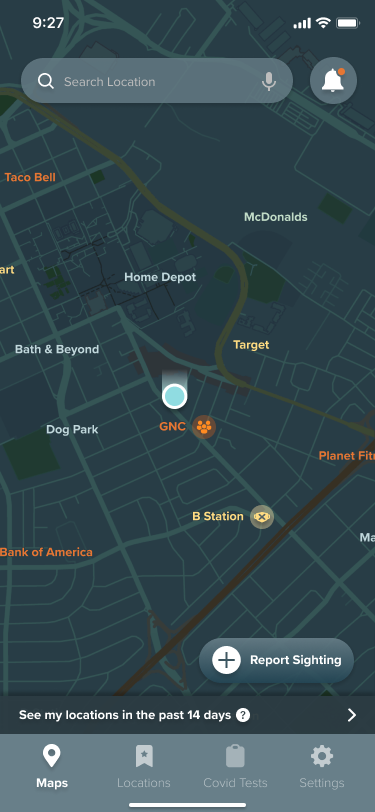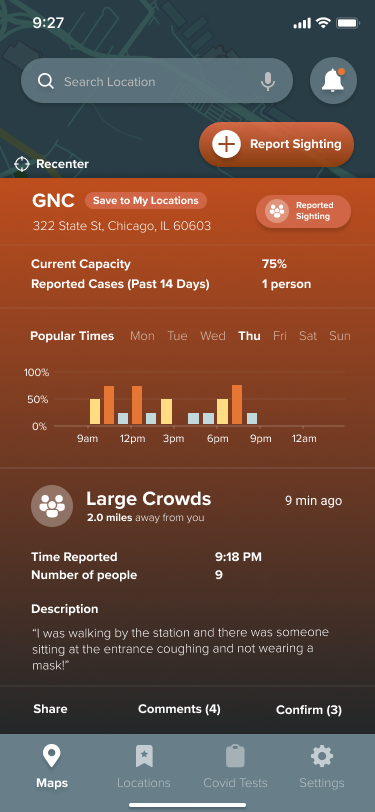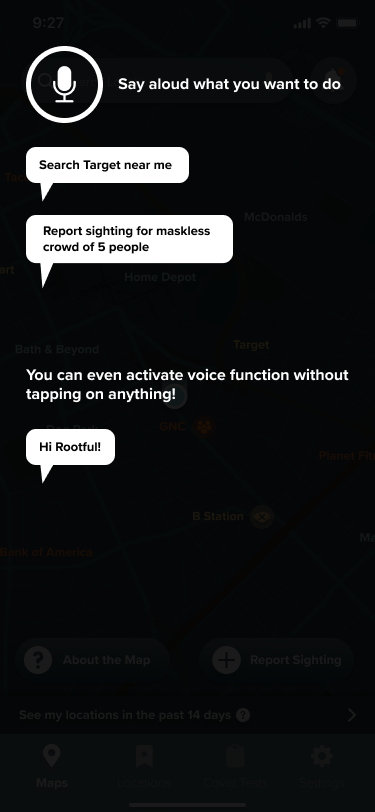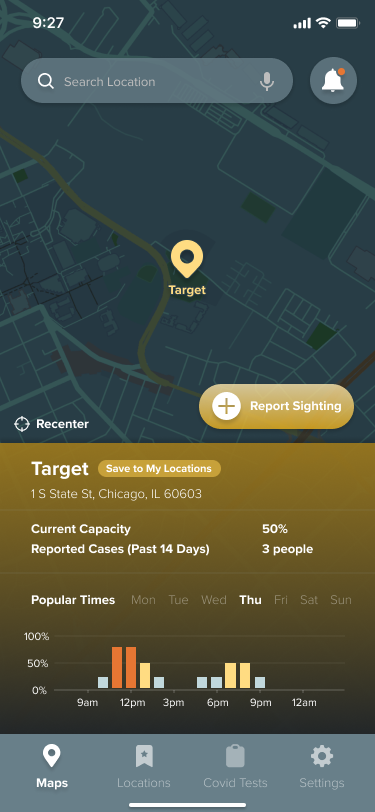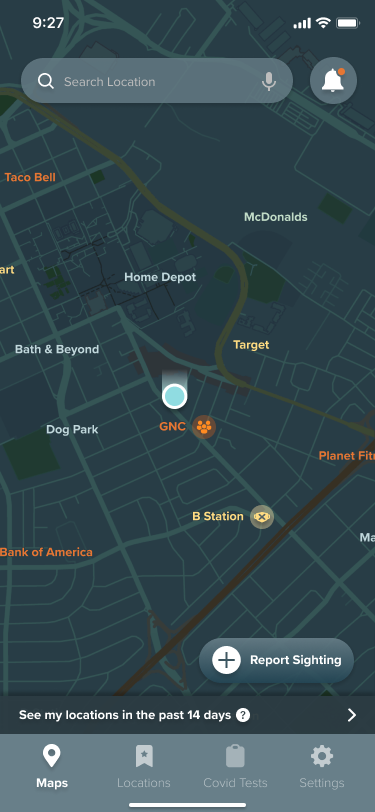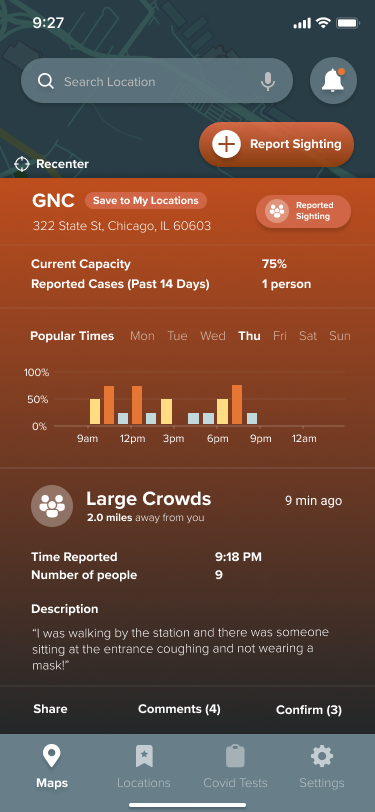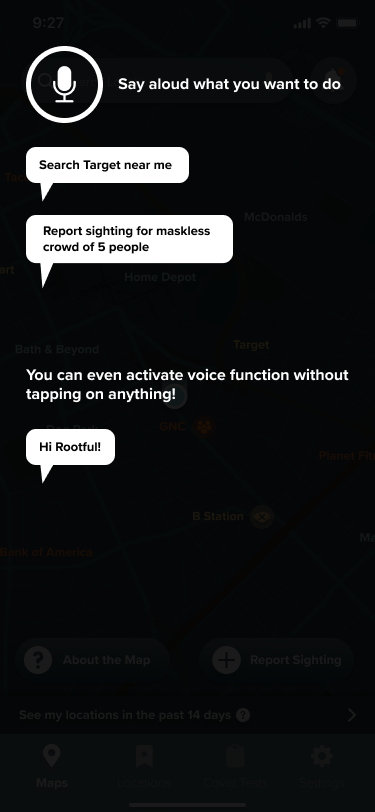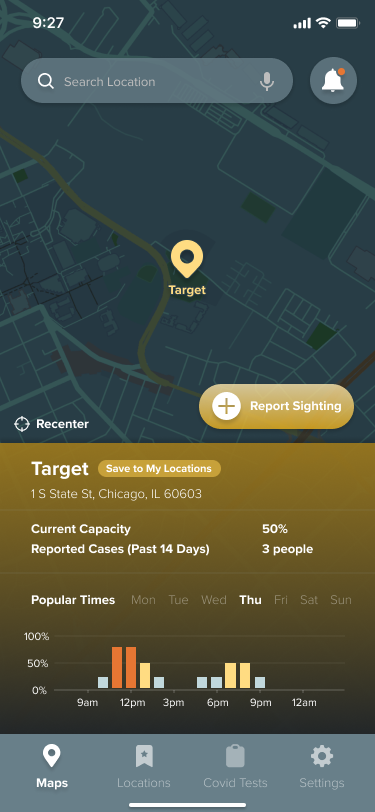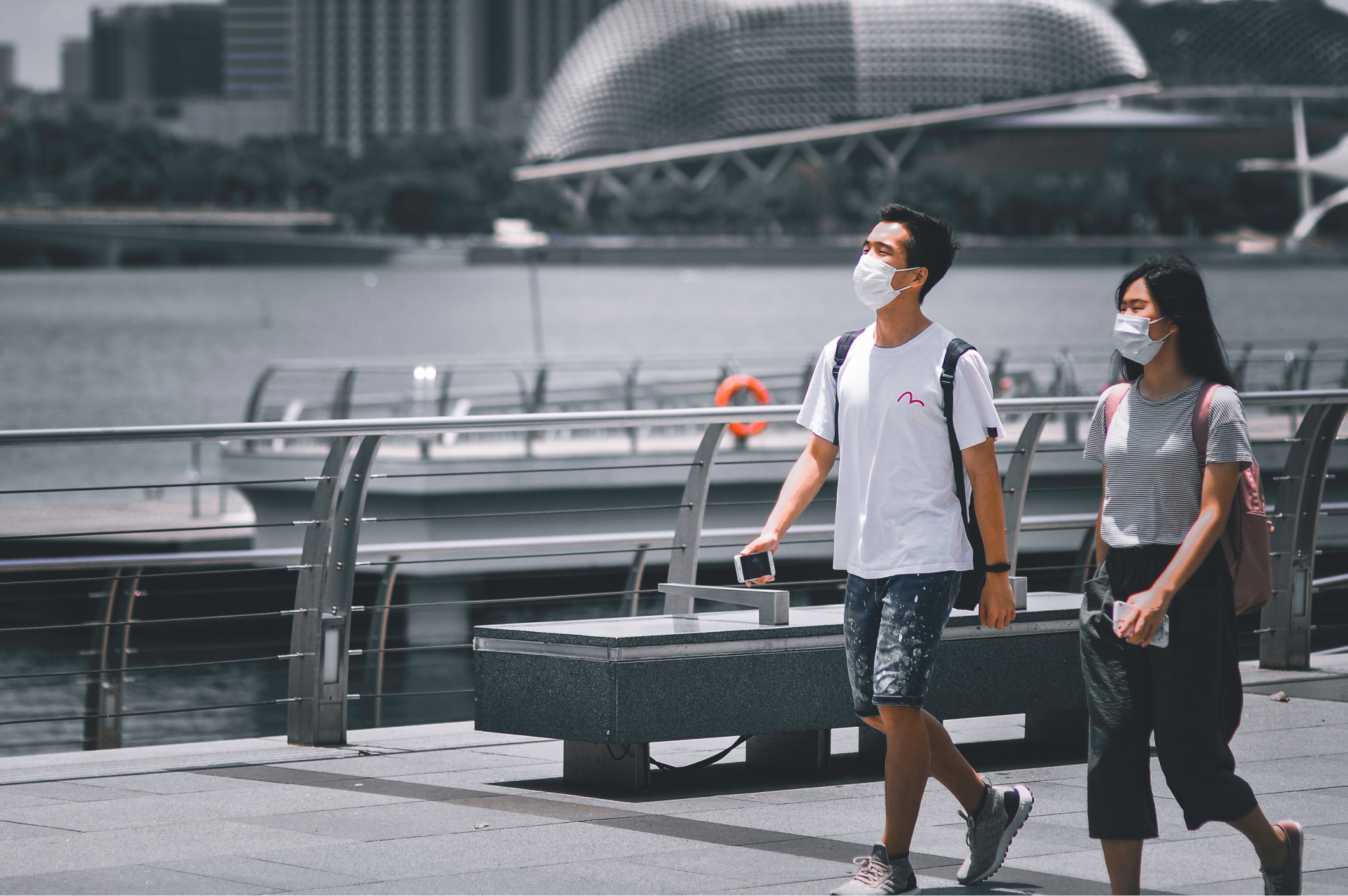 The Problem to Solve
Some of us, at least, have been careful while we go around outdoors, but we aren't actively conscious of the possibility of having infected people literally sitting at the table across from us at a restaurant, or touching that apple we are about to buy from the grocery store. - How can we promote mindfulness in people when they go out?

Primary Desk Research
With primary research, I read up studies about the pandemic. As of February 2021, people were still anxious over Covid, and it has taken a toll on people's daily lives physically and emotionally. According to Ipsos, 47% of the country still thought of Covid as one of the biggest threat. World Health Organization also stated that the pandemic has impacted our mental health due to increasing stress and anxiety for potentially contracting covid. With this information in mind, I wanted to make my contact tracing app reassuring to users, providing informative data for them when they have to leave their homes.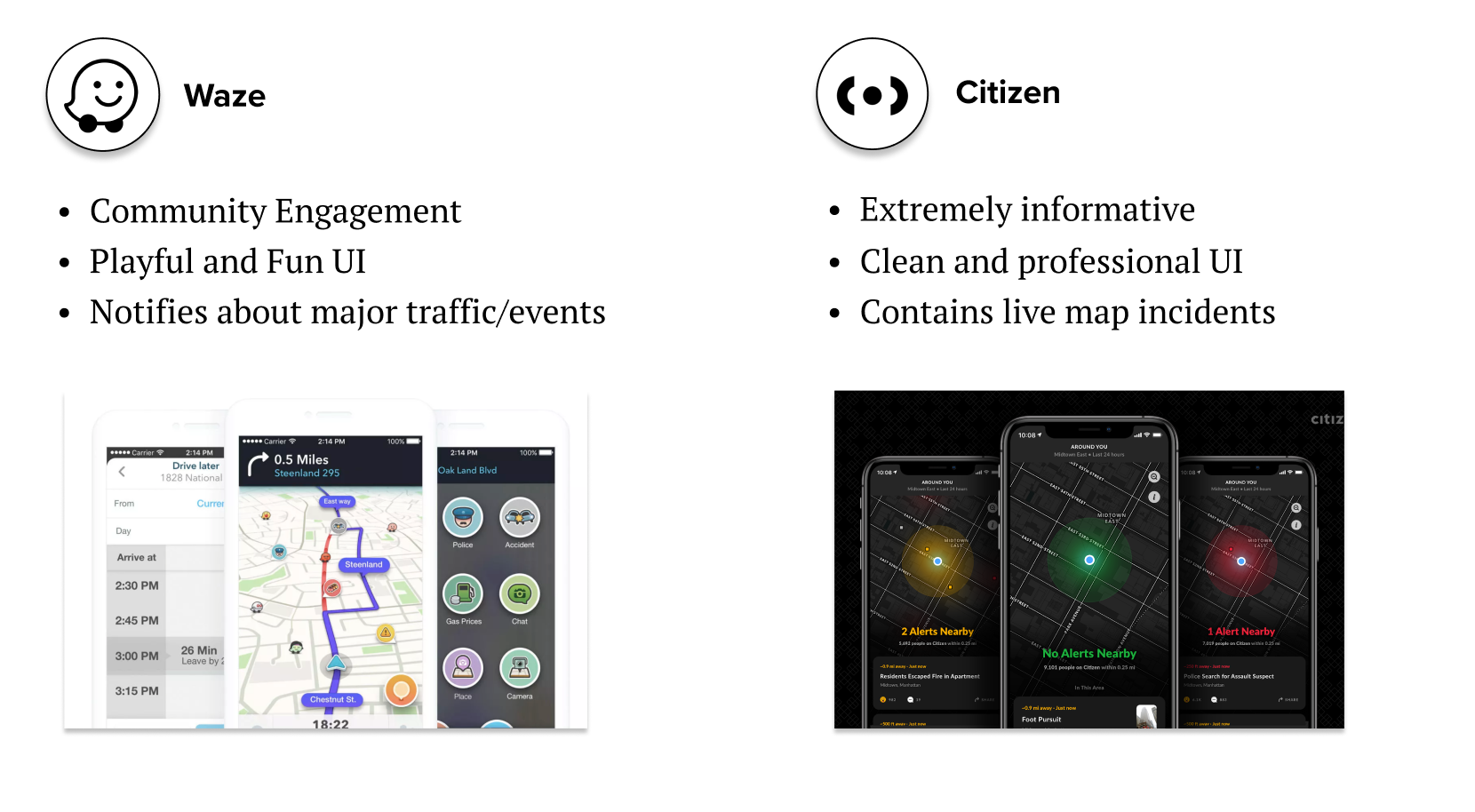 Analogous Desk Research
I looked at Waze and Citizen, two mobile apps that promotes safety and community engagement in what they do, for inspiration. Since I'm looking to create a manual contact tracing app, I looked at what makes these app successful and unique.

Competitor Analysis
I looked at two existing contact tracing apps to see what they are doing well and what they are missing.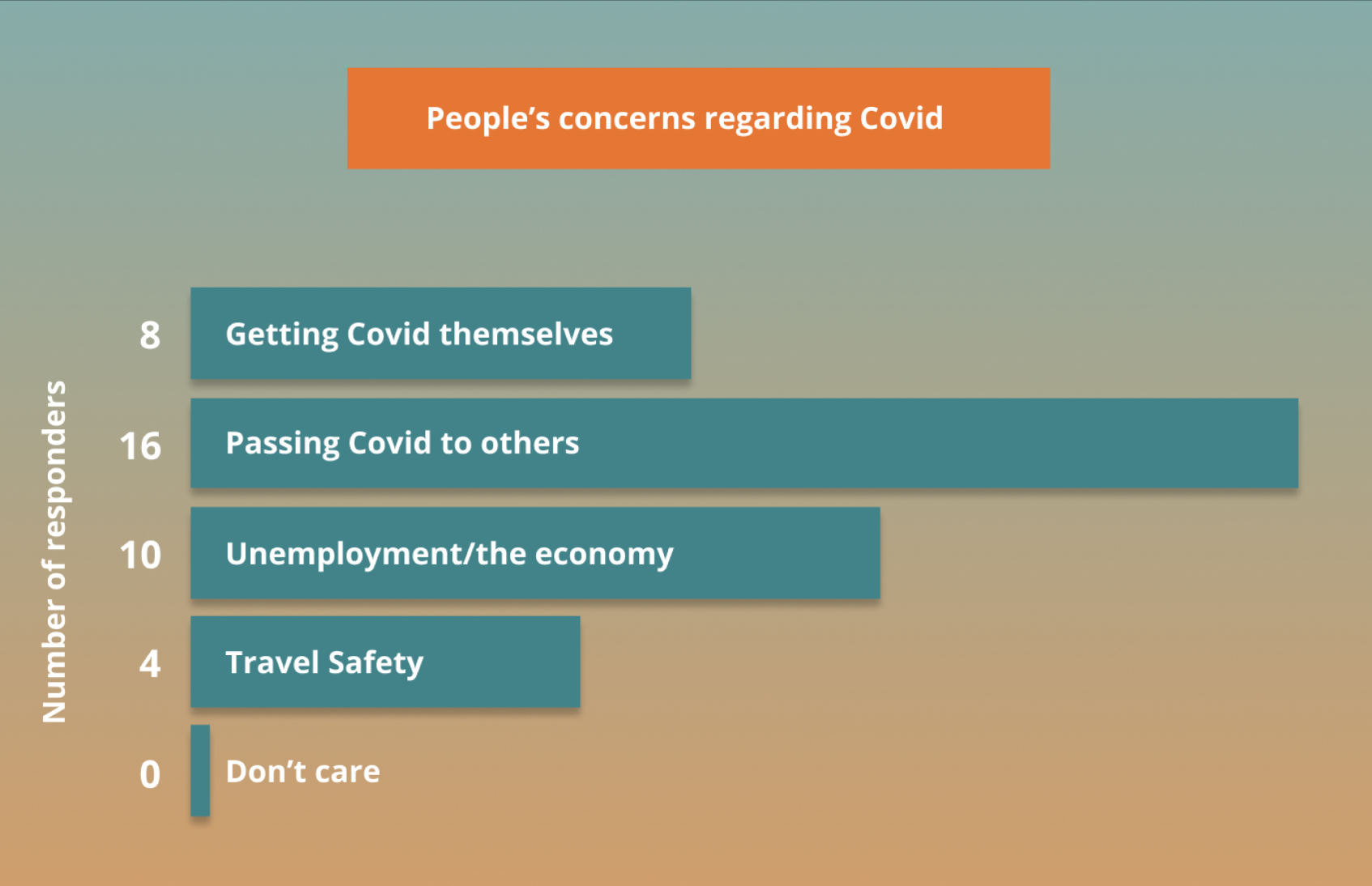 Surveys/Interviews
I used surveys and interviews to figure out people's personal experience during the pandemic. I surveyed about thirty people and interviewed five of them. Among them were healthcare workers and the elderly.
Some Guiding Questions:
How serious do you think Covid is?

How many times have you left home in the past 30 days?

How many people did you meet in person for reasons other than work in the past 30 days?

How many places have you visited in the past 30 days?
I discovered that people were anxious about going out during Covid, but it was interesting how they fear getting Covid and passing it to other people rather than getting sick themselves.

Synthesis of Interview Feedback
I used affinity mapping to synthesize my interview feedback and figured out what my app needs to consist of.
Synthesis Results
Traveling - People would still go out for recreational purposes despite the fear of contracting Covid. I will have to provide useful information in my app to help people be mindful but also be less anxious of their voyage.

Actions - All respondents are pretty good on following CDC guidelines, but are afraid of meeting people who don't, and try to avoid them when possible.

Conditions - Concerned about getting others sick over their own sake. Would be nice to help the community!

Information - People want to know what's going on in their area regarding the pandemic, such as how dangerous/safe a specific location/store would be.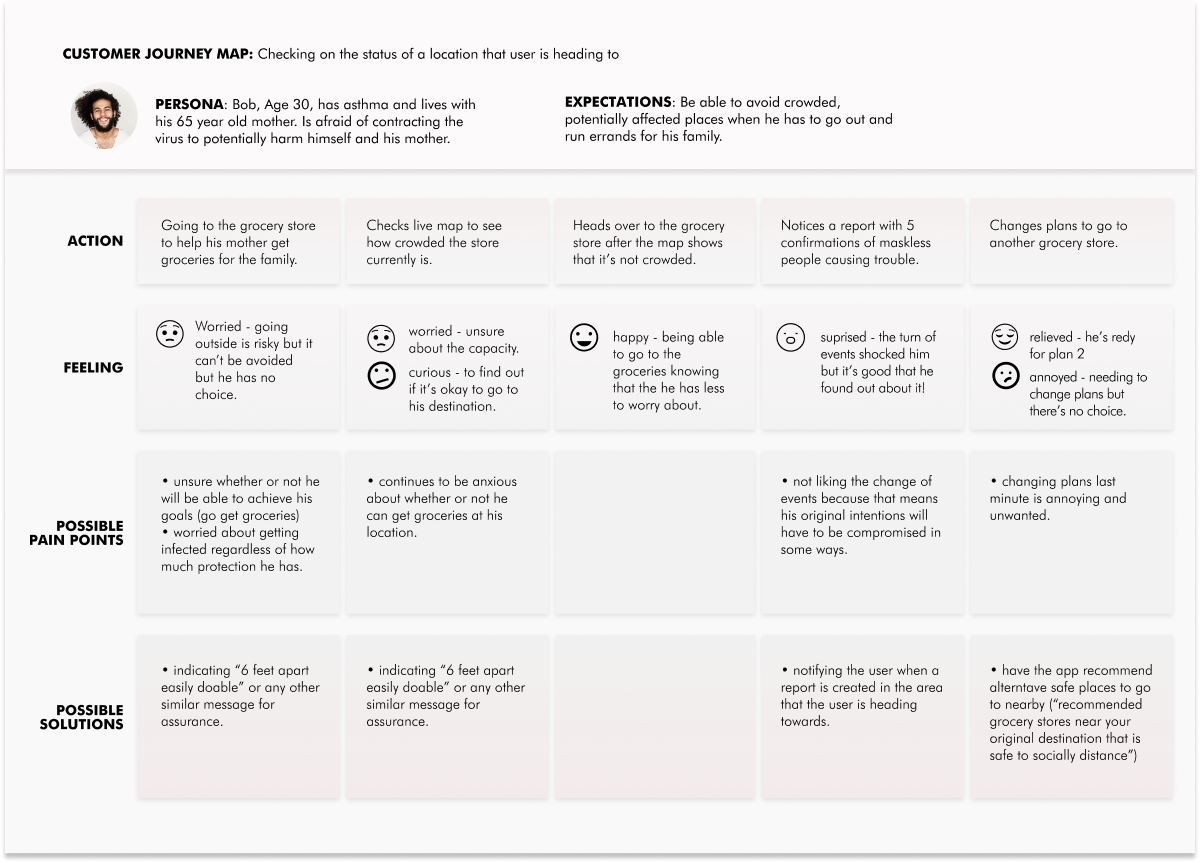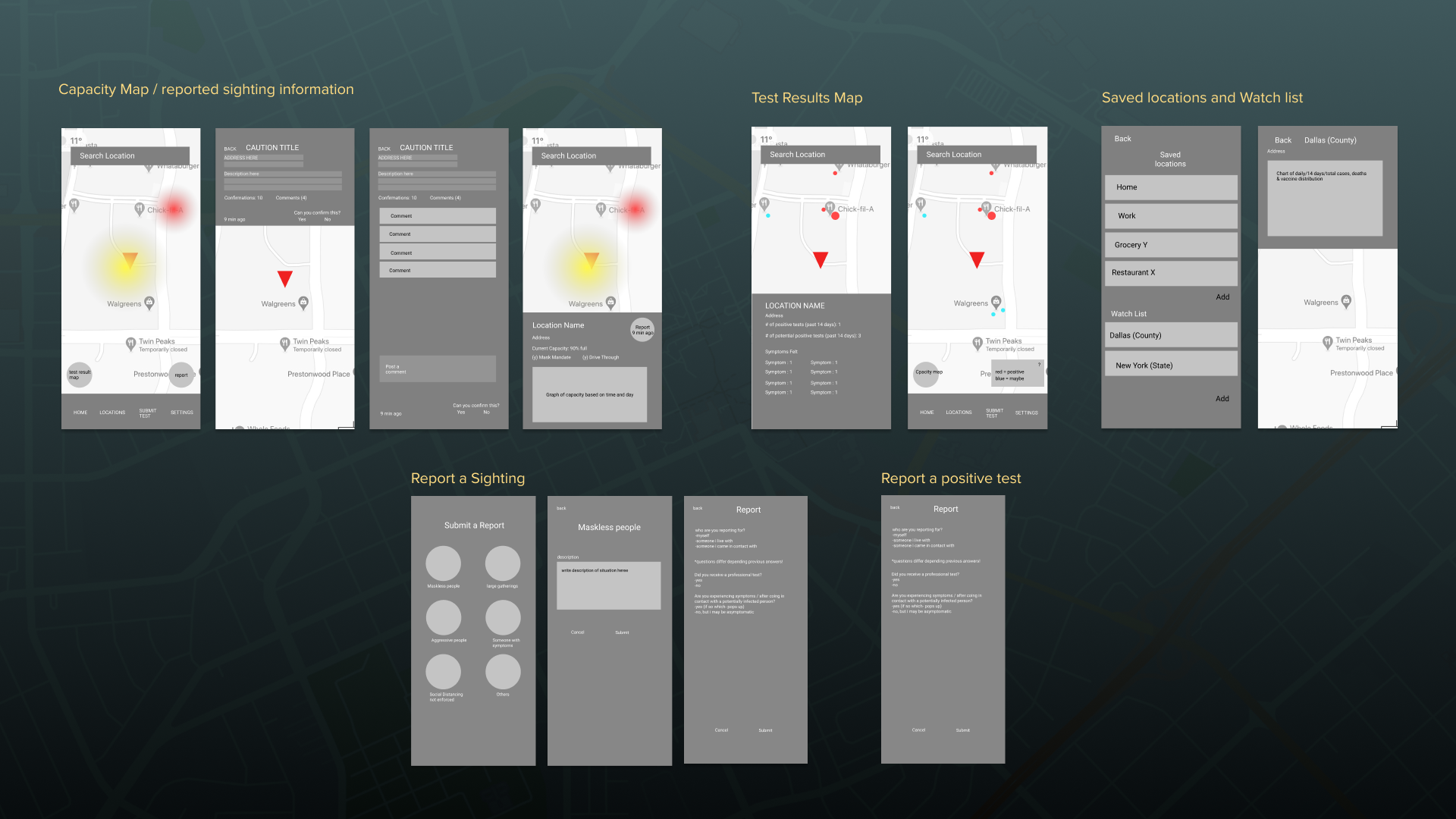 LoFi Prototype
Here is my lofi prototype, with my main features implemented. Display a map that use colors to indicate how crowded a location is.
Toggle to another map that traces places you went to in the past 14 days.

Save specific locations so you can have quick access to see its live information.

Submit a positive Covid test so people who have been where you were at the same time in the past 14 days will be notified.

Report a sighting of something disruptive to warn other people to potentially be careful of that area.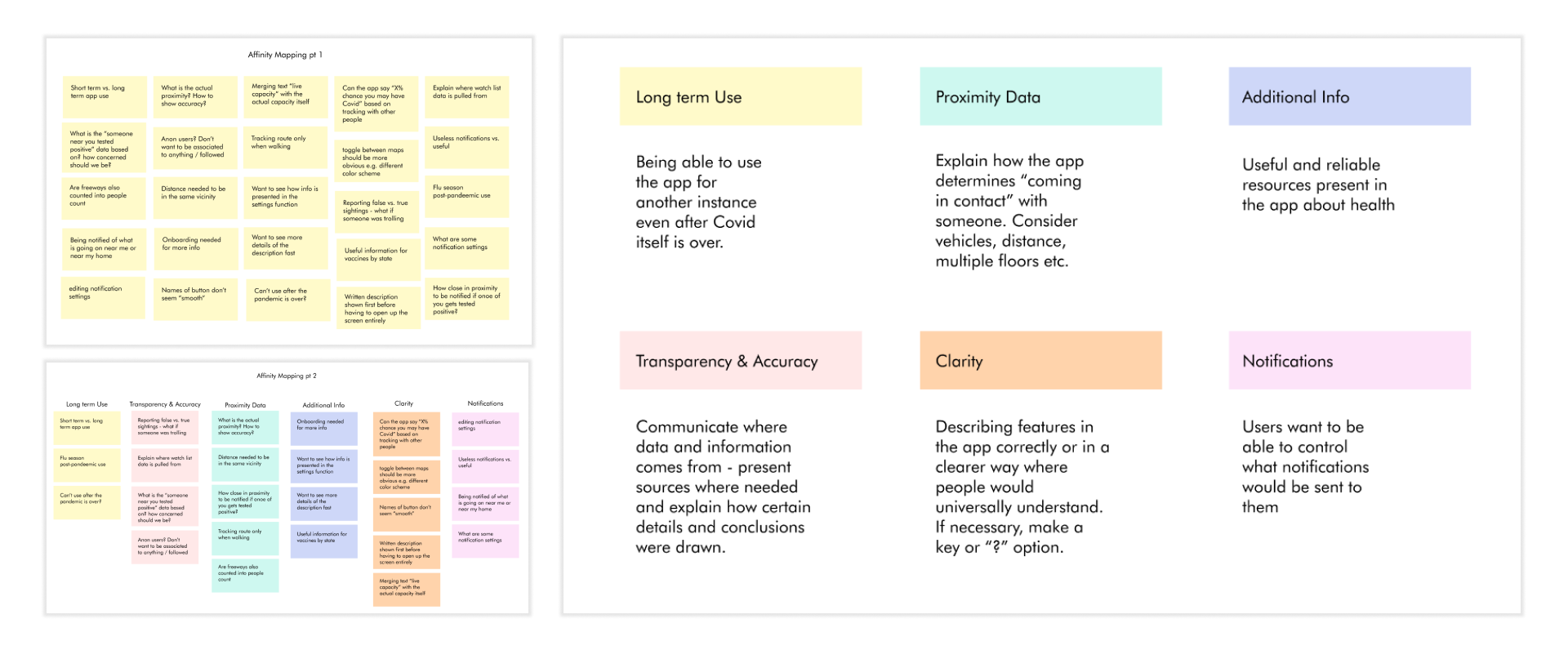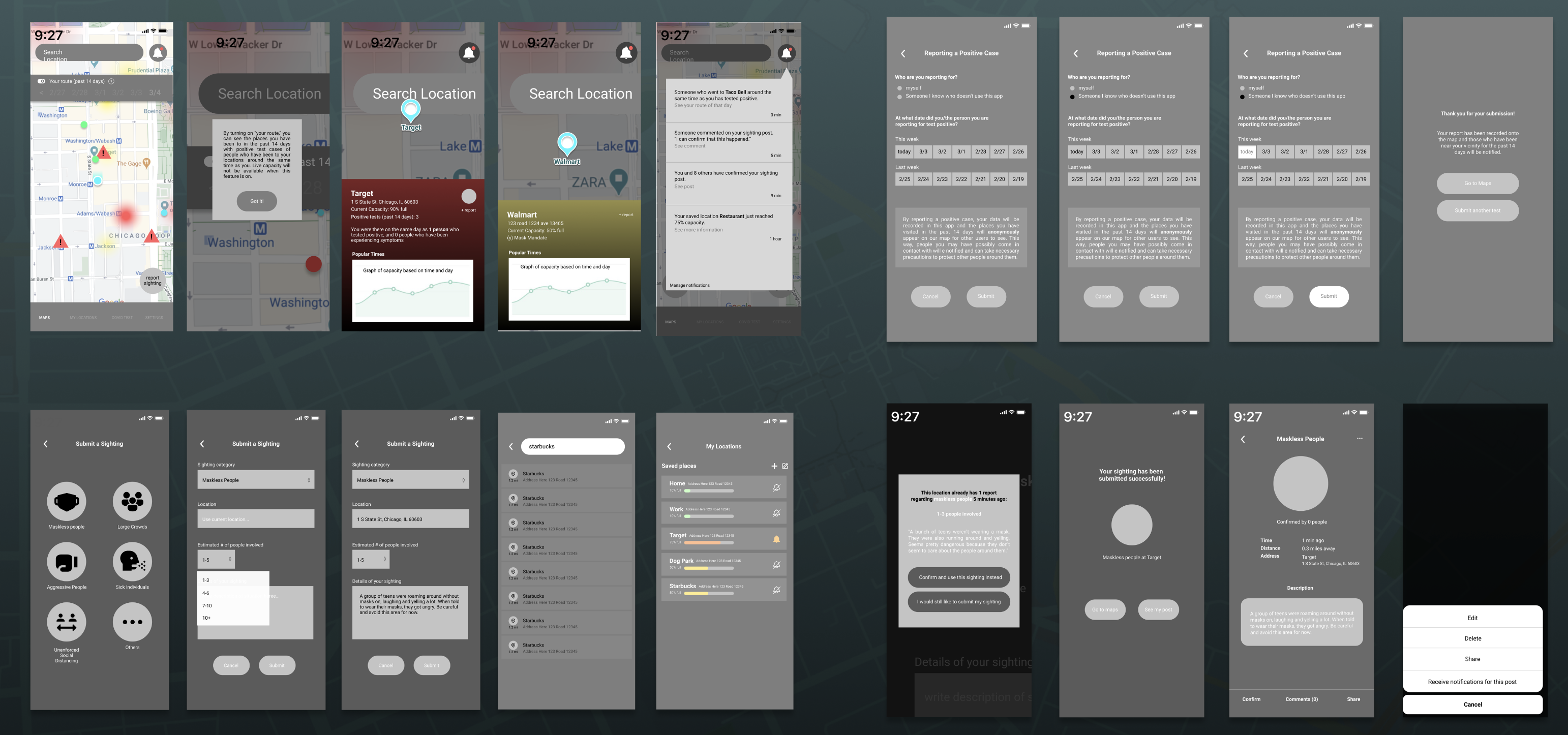 MidFi Prototype
Feedback from the lofi user testing user testing/think aloud that I implemented into this prototype:
Remove switching between two types of maps to consolidate into one

Edit notification settings

Only allow confirmed test reports

Seeing a history of old posts and tests

Remove area watch list - not important to solve the main problem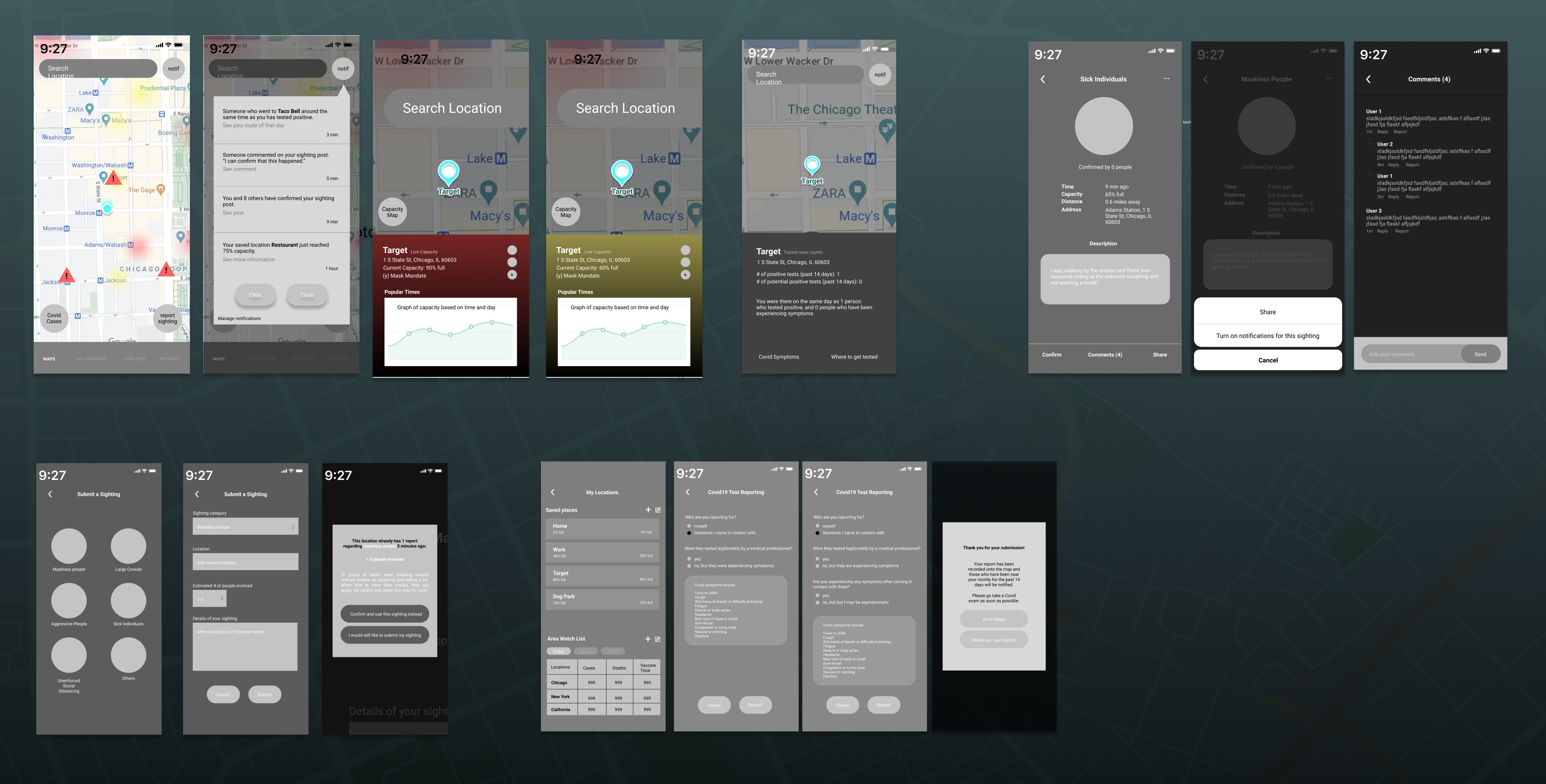 HiFi Prototype
Feedback from the lofi user testing user testing/think aloud that I implemented into this prototype:
Autofill forms for more incentive to use certain functions

speech to text for easier use of the application

Making buttons interactive/swipe activated than for tapping

Material design to simplify screens

Onboarding to provide information & decrease "help" buttons on screens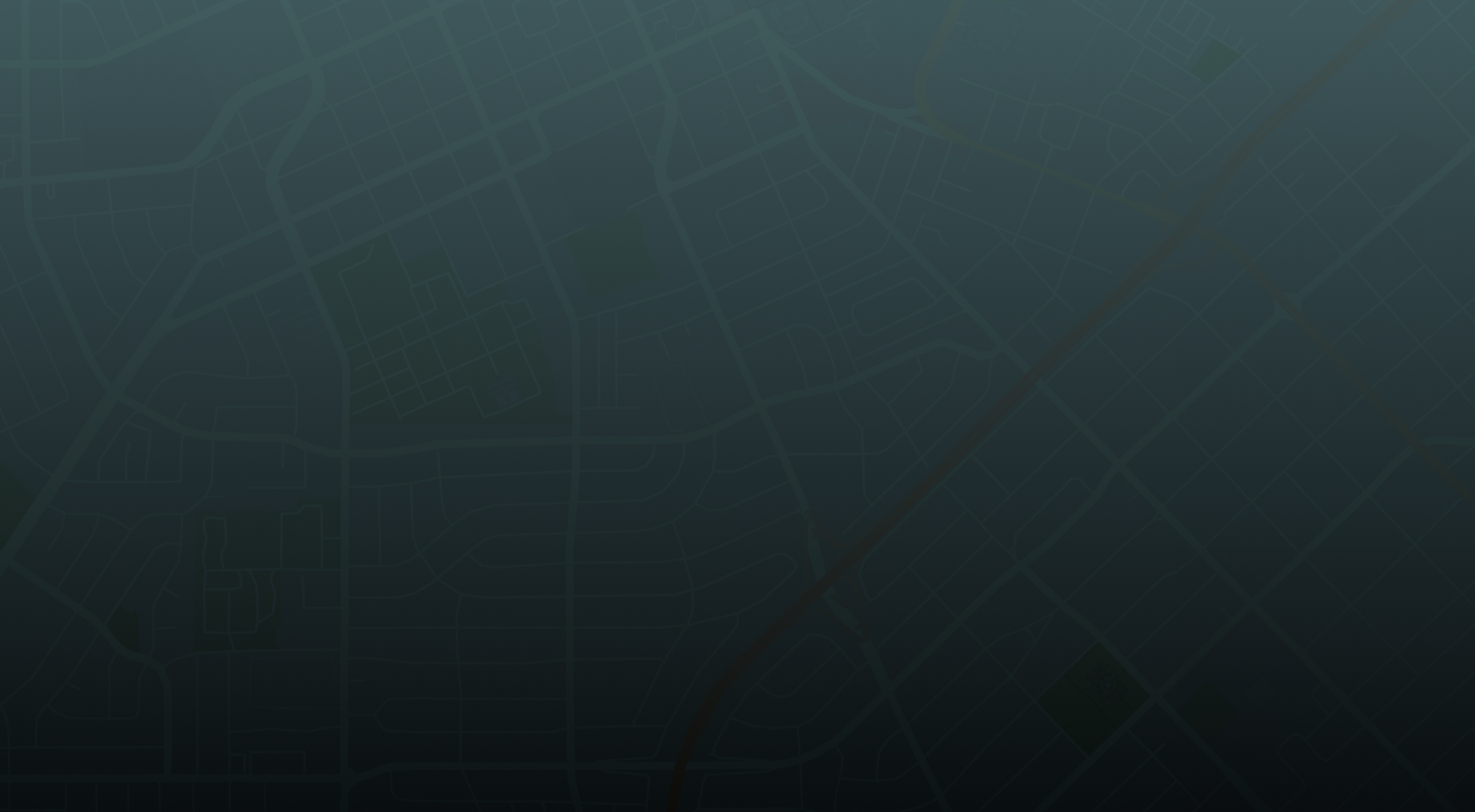 Onboarding
Onboarding - informs user the general use of this app so the app can avoid extra "help" buttons, making the general UI cleaner with less unnecessary buttons. Also seeks consent from users to turn on location services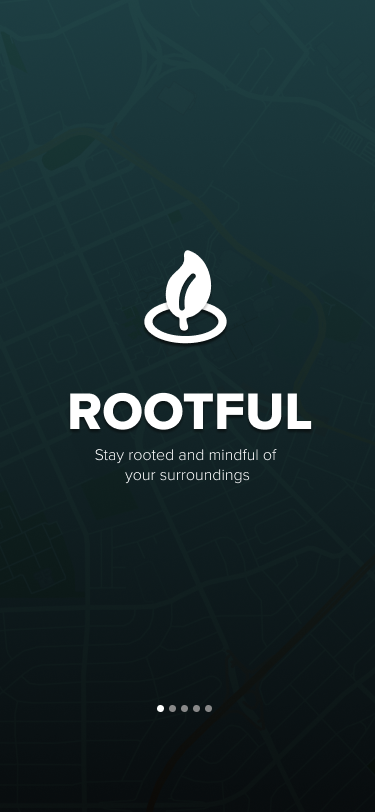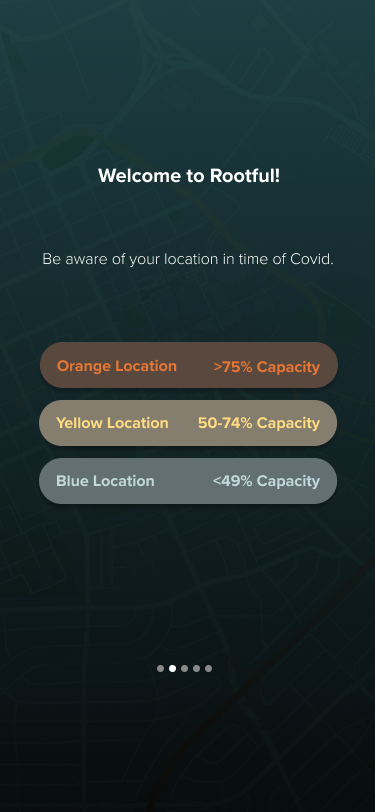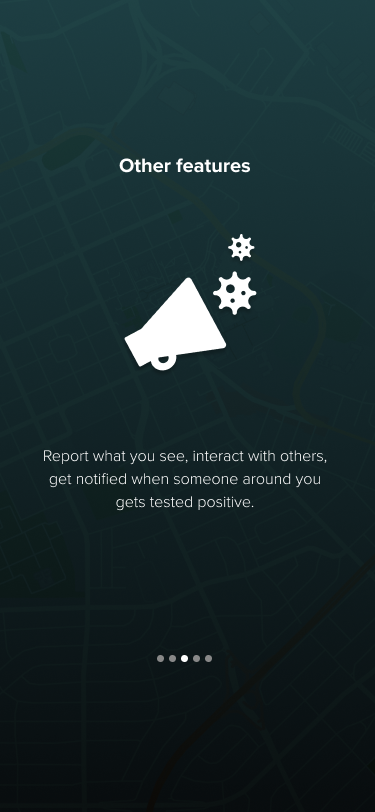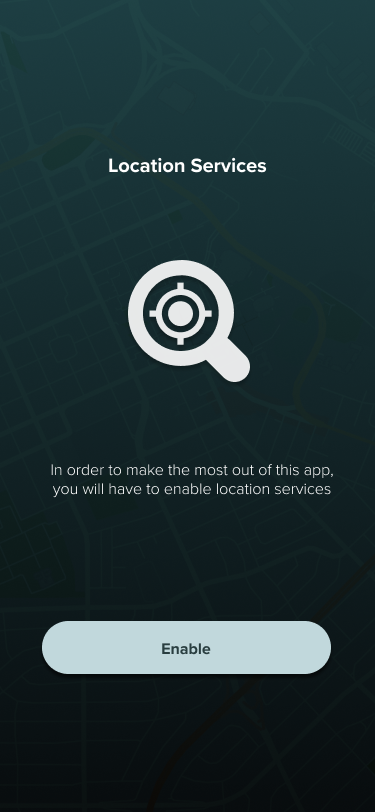 Home page live capacity and location tracker
Map shows live capacity of a location by color (blue, yellow orange). Swipe up from "See my locations..." to check your visited locations with how many people who tested positive have gone there at the same time as you.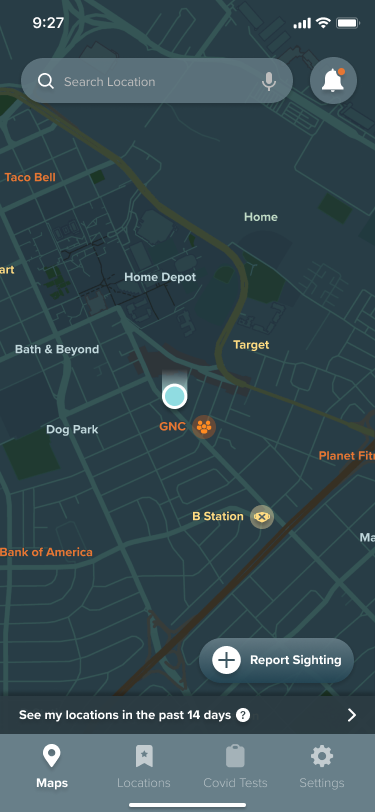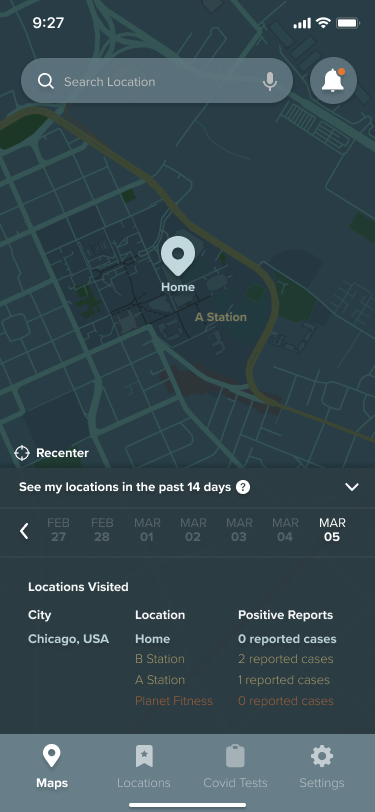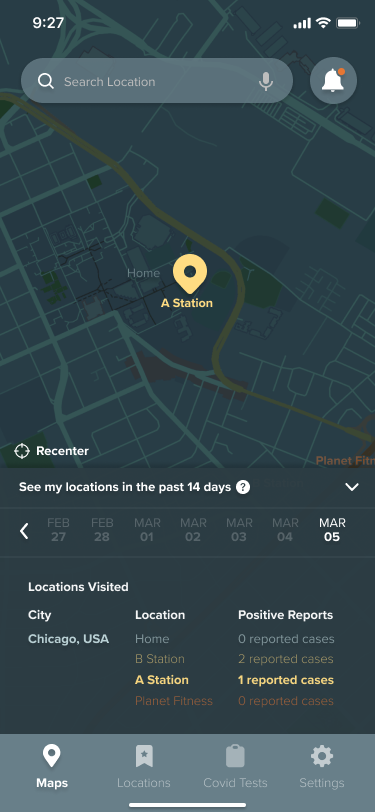 Notifications & Speech-to-Text
Notifications - Check who engaged in your comments & posts, people who tested positive who were near you, and locations you saved that you enabled notifications for depending on capacity.
Speech-to-Text - Activates the app by voice with or without a button so users can search or use app features without pressing any buttons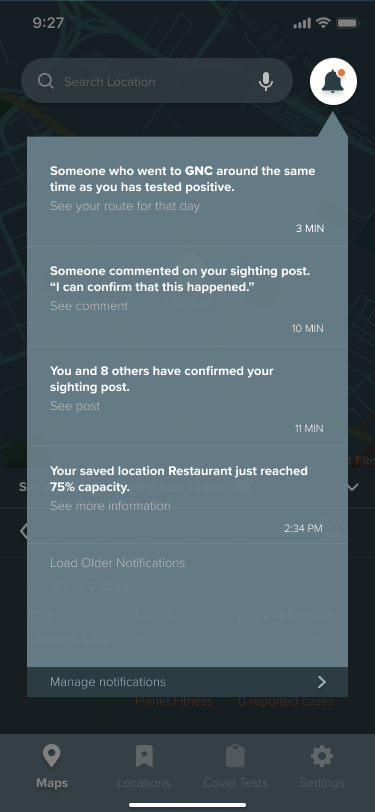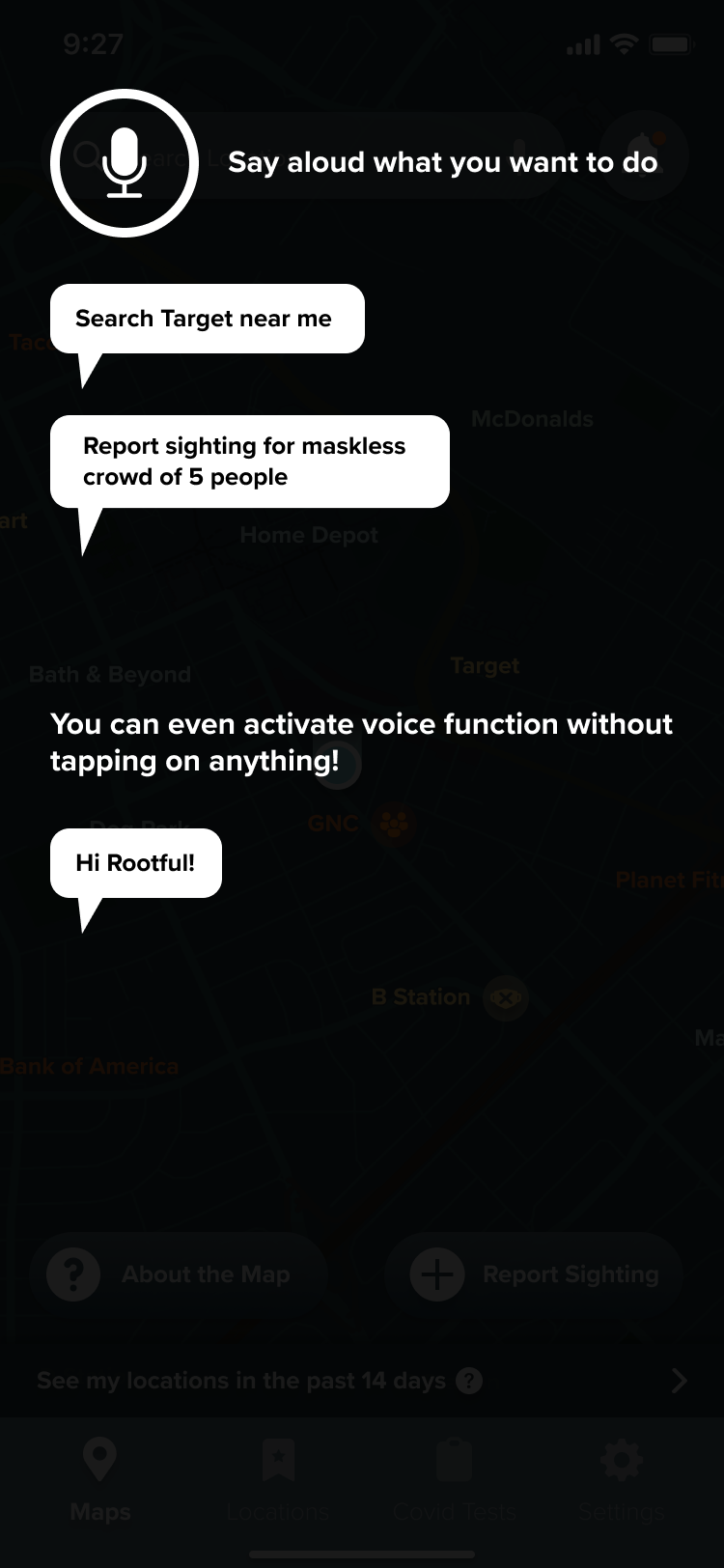 Map Feature - Live capacity & sighting report information
By clicking on a location, you get to see live details about it. Swiping up provides even more information, if there is a disturbance sighting reported by you/somebody there.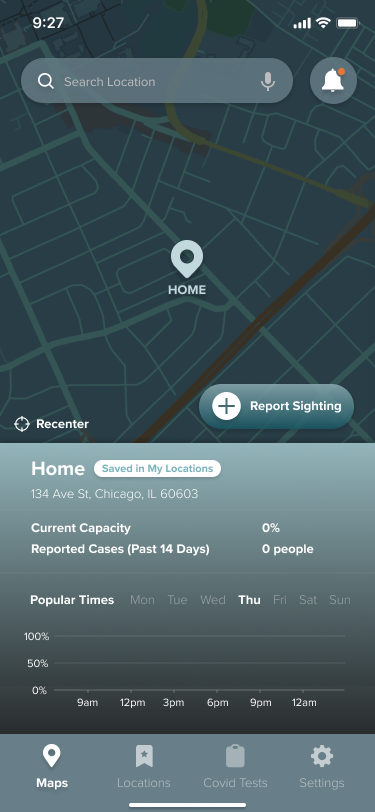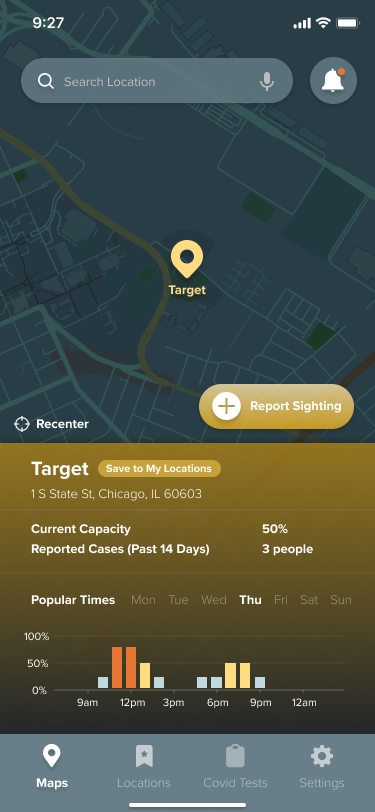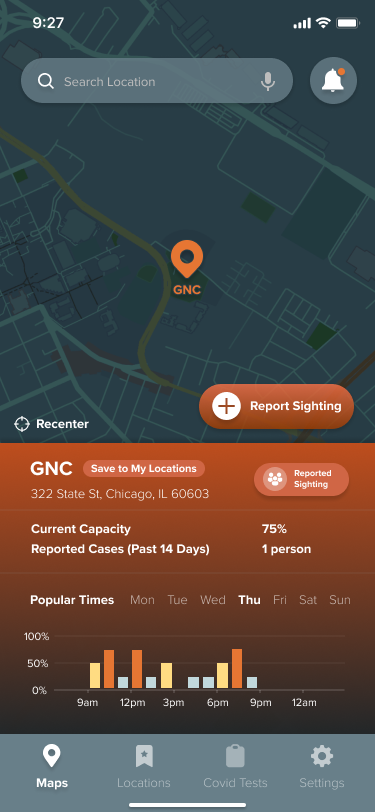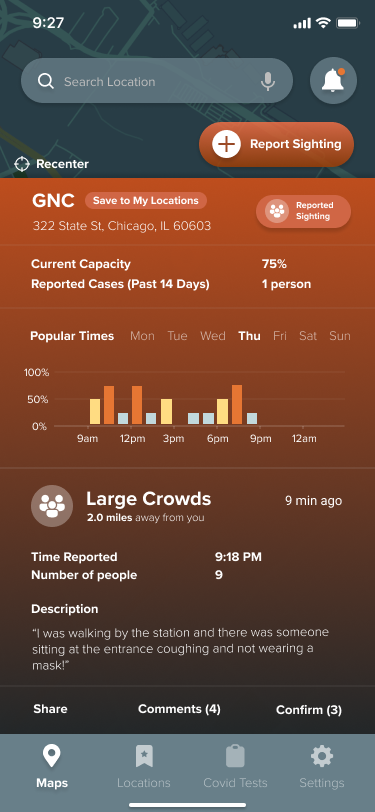 Locations Tab
look at saved locations and their live capacity. Users can add locations, delete/rearrange them, and change notification settings.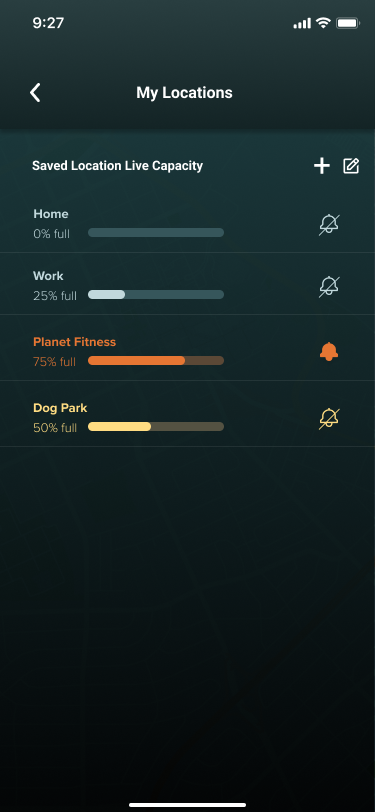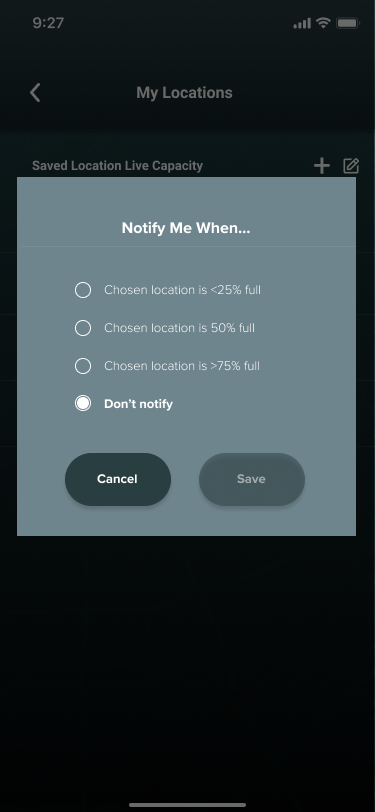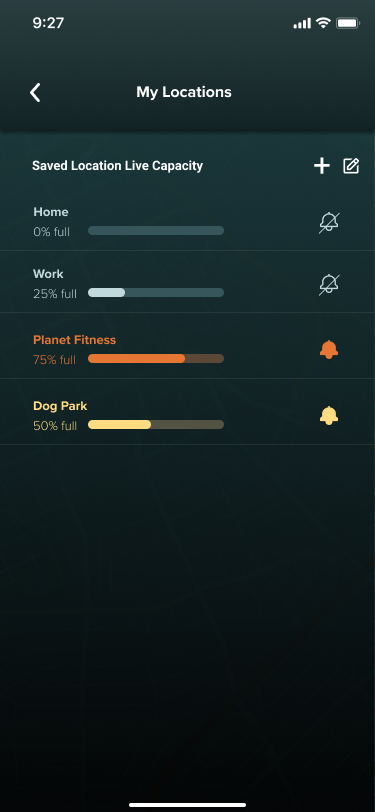 Reporting a incident
from home screen, users can choose a disruption. The form is autofilled but can be edited. If there is already a recent report at the location, the app will remind you. if not, you can proceed to post your sightings. One can also engage in other reports via comments/confirm that the sighting is true/still ongoing.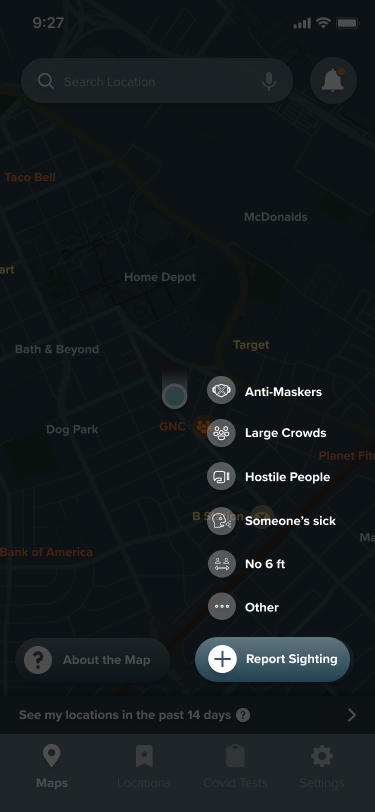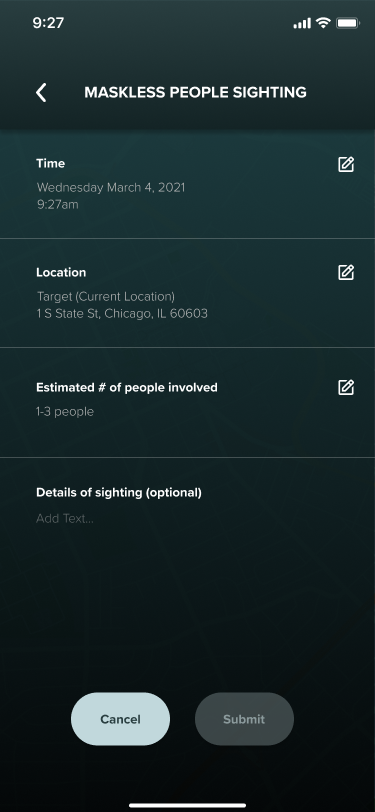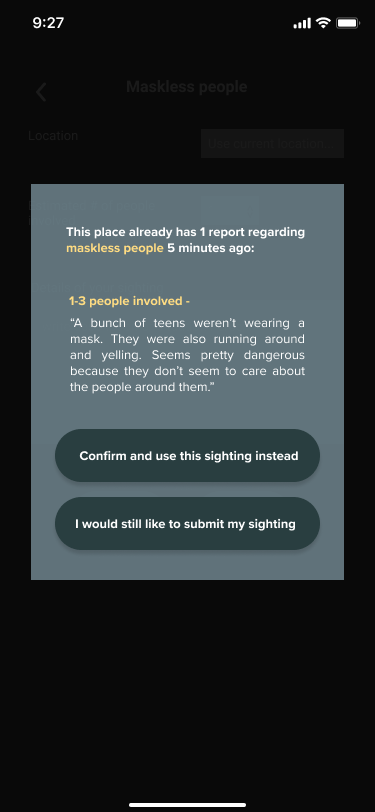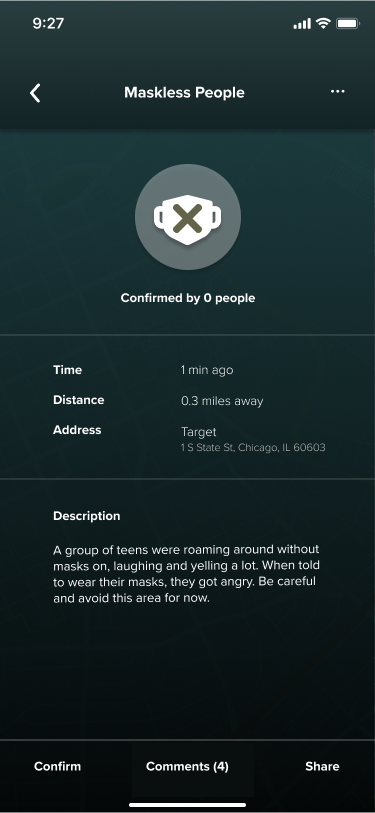 Report Cases/Check on posts
Report a positive Covid-19 case for yourself. Doing this notifies other users who has been to the same locations you have at the same time in the lasr 14 days.
Check your past reports and test submissions - this is so you can track and have a record of incidents at different locations and your test information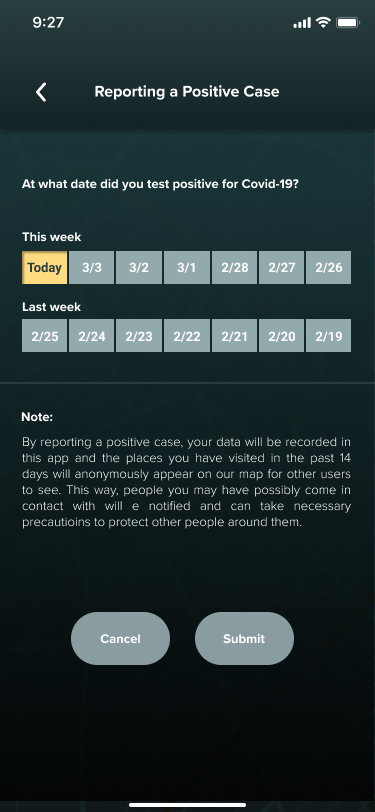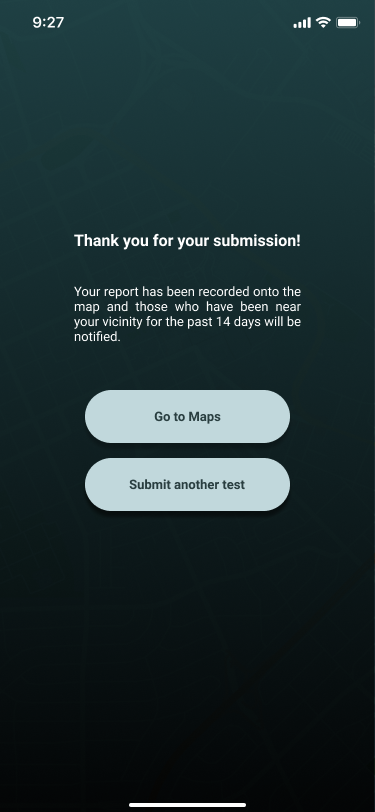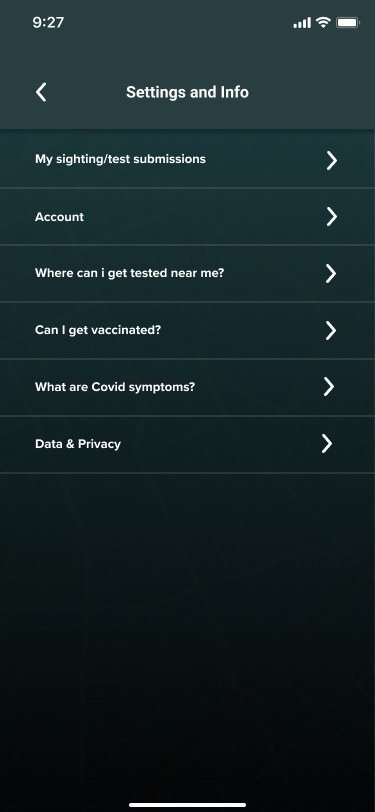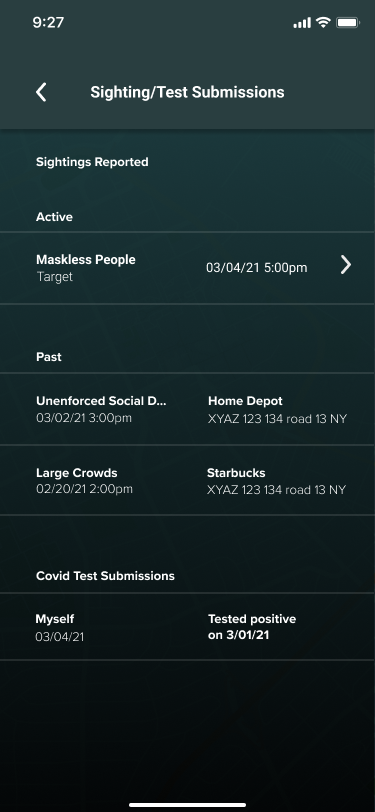 BONUS Post Covid App Idea
displays general information about a specifc location or a generic region. Also able to input generic sightings of natural or manmade disasters.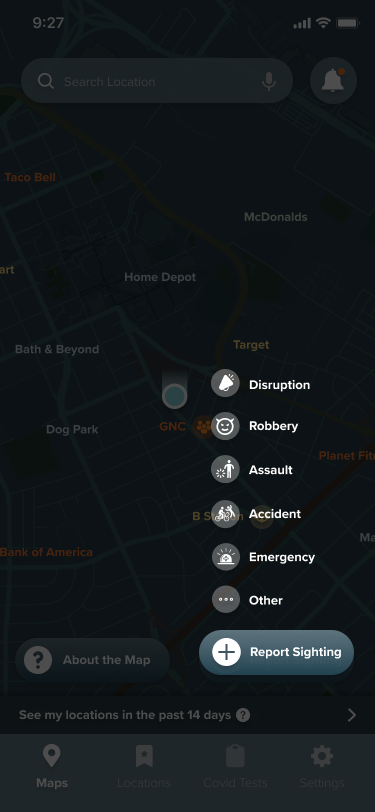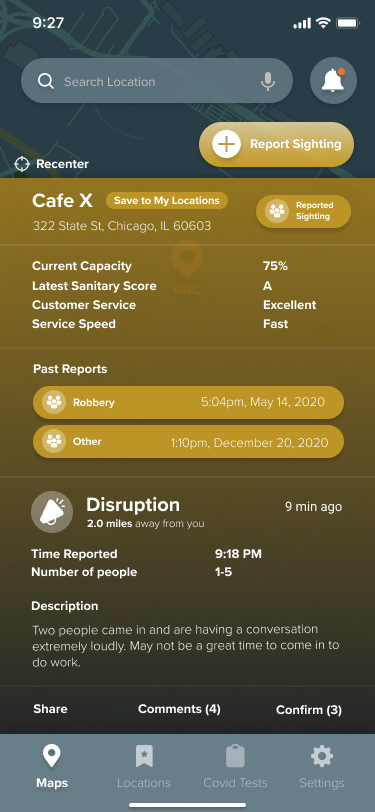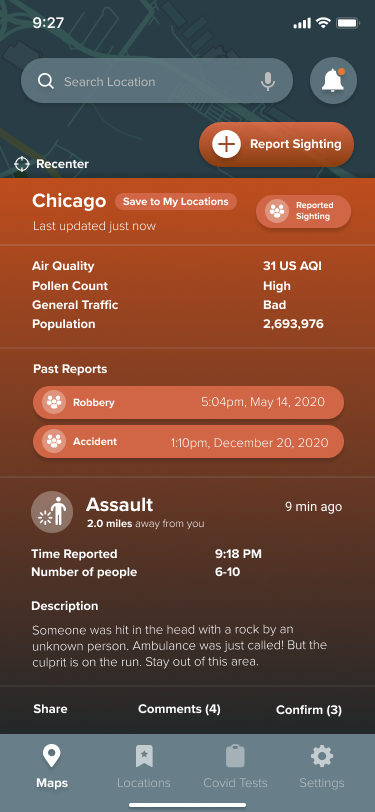 Reflection
The most challenging things about creating this app was definitely the constraints I had working alone during the pandemic. I wish I could do think-aloud testing in person, where I observed people's reactions more directly. If I had more time, I would want to keep working on the "post-pandemic" version of this app. So far, I've only created a small alternate screen, but I would love to see how I can make this app usable even when the world is back to normal. Finally, I learned to CONSTANTLY get feedback. I was able to receive a lot of help and suggestions this time, actively participating in critiques and asking my professors for advice. The more people, the fresher the ideas!